Premier Box Shipping Containers is excited to announce the opening of their new depot in Narangba, conveniently located just 25 minutes north of Brisbane and 15 minutes south of Caboolture.
The new depot in Narangba is Premier Box's first retail outlet for customers in South East Queensland, and allows customers to inspect shipping containers onsite before buying or hiring. Friendly and knowledgable staff are on hand to discuss requirements, answer questions and assist in arranging delivery.
In addition to Premier Box's range of quality new and used shipping containers, the depot will also offer onsite storage facilities. A shipping container's construction means that a wide range of products can be stored safely and securely, and their strong, corrosion resistant steel bodies offer protection against the elements. They are watertight, ventilated and vermin proof, and when you hire with Premier Box, they are also fitted with a lock box to ensure your valuable goods remain secure.
If you are outside the Narangba area and require temporary storage solutions, shipping containers can also be delivered to your home or work site. Premier Box offers immediate delivery in most areas of Australia.
From the Blog:
– More Storage Space, FAST!
– Use a Shipping Container While You're Renovating
Shipping container modifications will also be available at the Narangba depot and staff will be on hand to speak with you about your requirements.
Through modification and customisation, shipping containers can be transformed into: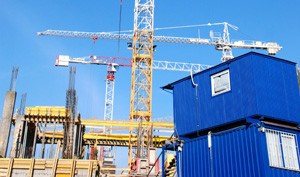 • Accommodation Units
• Toilet & Shower Blocks
• Lunch Rooms
• Mobile Kitchens
• Site Offices
• Power Plant Rooms
• Portable Workshops
• Specialised Equipment Storage
• Dangerous Goods & Chemical Storage
• Cold Storage Rooms
See some examples of shipping container modifications and cargotecture on our blog:
– Shipping Container House Wins Major Architecture Award – Sunshine Coast
– Shipping Container Swimming Pools
– A Holiday Home with a Difference
– Top 8 Shipping Container Homes
– Shipping Container Coffee Shop
– Urban Agriculture and Shipping Containers
– Why Your Next Site Office Should be a Shipping Container
Getting Here
The depot in Narangba is only 2 minutes off the M1, located at 13-15 Helium Street, Narangba QLD 4504. See map below.
Heading north on M1, take exit 142 – Deception Bay Road towards Burpengary. Merge onto New Settlement Rd, then turn left onto Old Gympie Rd. Take the first left onto Helium St.
Heading south on M1, take exit 142 – Deception Bay Road towards Narangba. Turn right onto Deception Bay Road, then left onto Old Gympie Rd. Take the first left onto Helium St.
The team at Premier Box Shipping Containers looks forward to seeing you at the Narangba depot soon!
Monday to Friday 8am–5pm
Saturday 9am–12:30pm
Sunday Closed
Can't get to the depot? We can still help! Call us on 07 3888 3011 or request a quote online now.