Enthusiastic up-cyclers are leading the way in alternative architecture and design by recycling used shipping containers as homes and offices, but if you're not quite ready to live in a shipping container, have you thought about swimming in one? These versatile containers can also be converted into swimming pools at a fraction of the price of a traditional pool. We supply new single use containers to Coolum based Shipping Container Pools who have a range of stylish pools that can be easily customised to sit within your desired location.
Why choose a shipping container pool?
A shipping container pool comes with plumbing, heating and electrical systems already installed which means they are simple and easy to set up. They are relocatable and their exterior is completely customisable as they can be installed above ground. We already know how strong shipping containers are and with the added modification by Shipping Container Pools, these durable and safe pools are perfect for the family home.
Shipping Container Swimming Pools Overview
Check out this great video from Shipping Container Pools, breaking down the build and elements of their pools.
Examples of Containers being used for pools by big brands
Last year we did some research on how various brands and businesses used shipping container pools for permanent and temporary uses including public events and residential buildings. Here's what we found…
Tommy Hilfiger Denim – Bread and Butter Fashion Trade Show
This fashion trade show embraced the re-use of shipping containers in a big way, turning heads not only in the world of fashion, but also in the world of cargotecture. The swimming pool, constructed out of modified shipping containers, displays glass panelling and stylish wooden trimming, complimenting the overall industrial yet contemporary look of the show.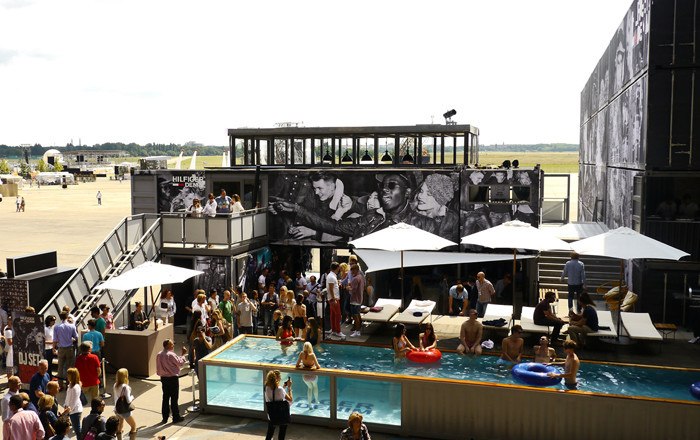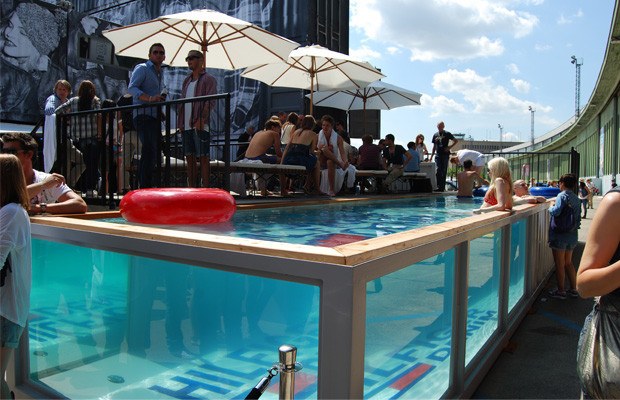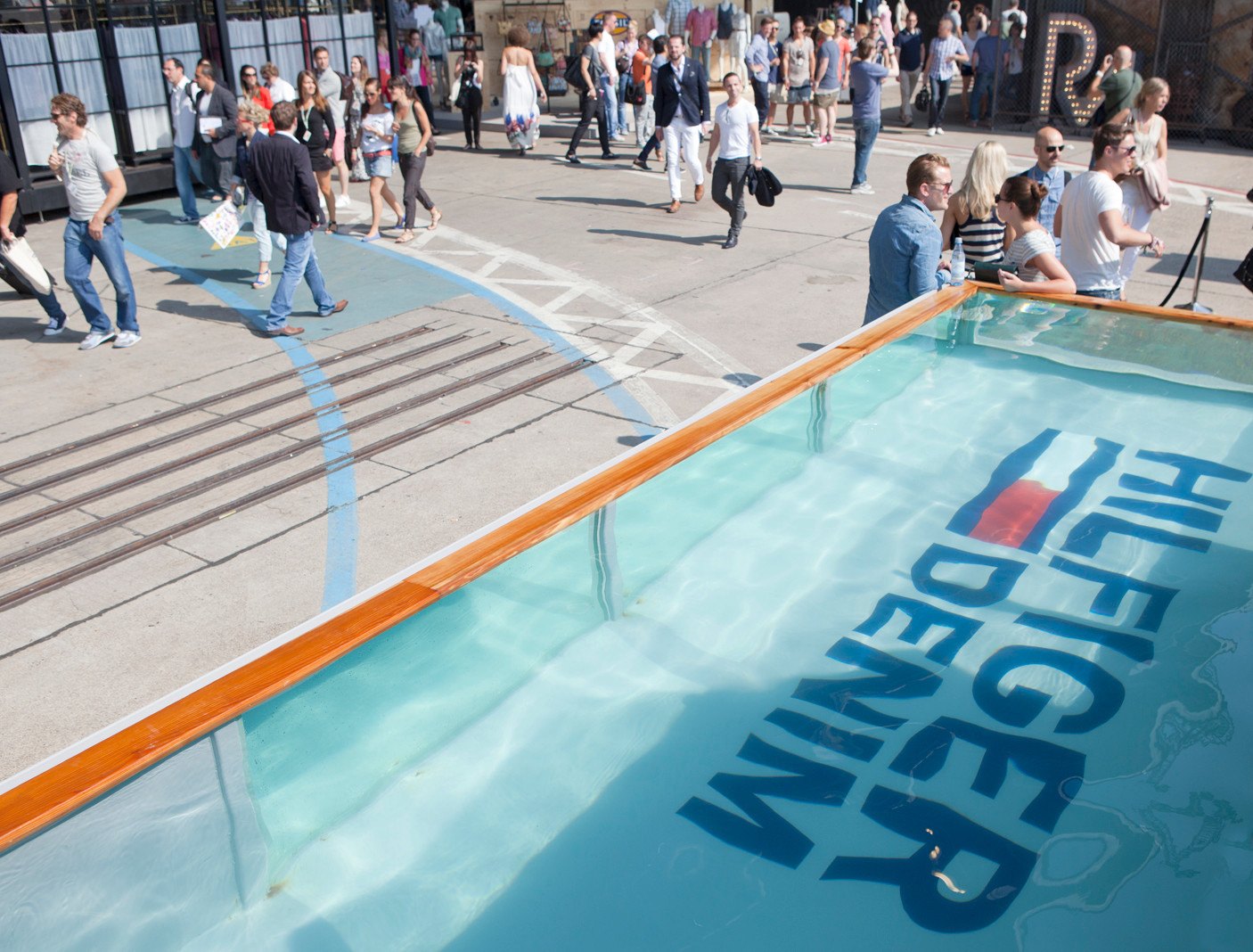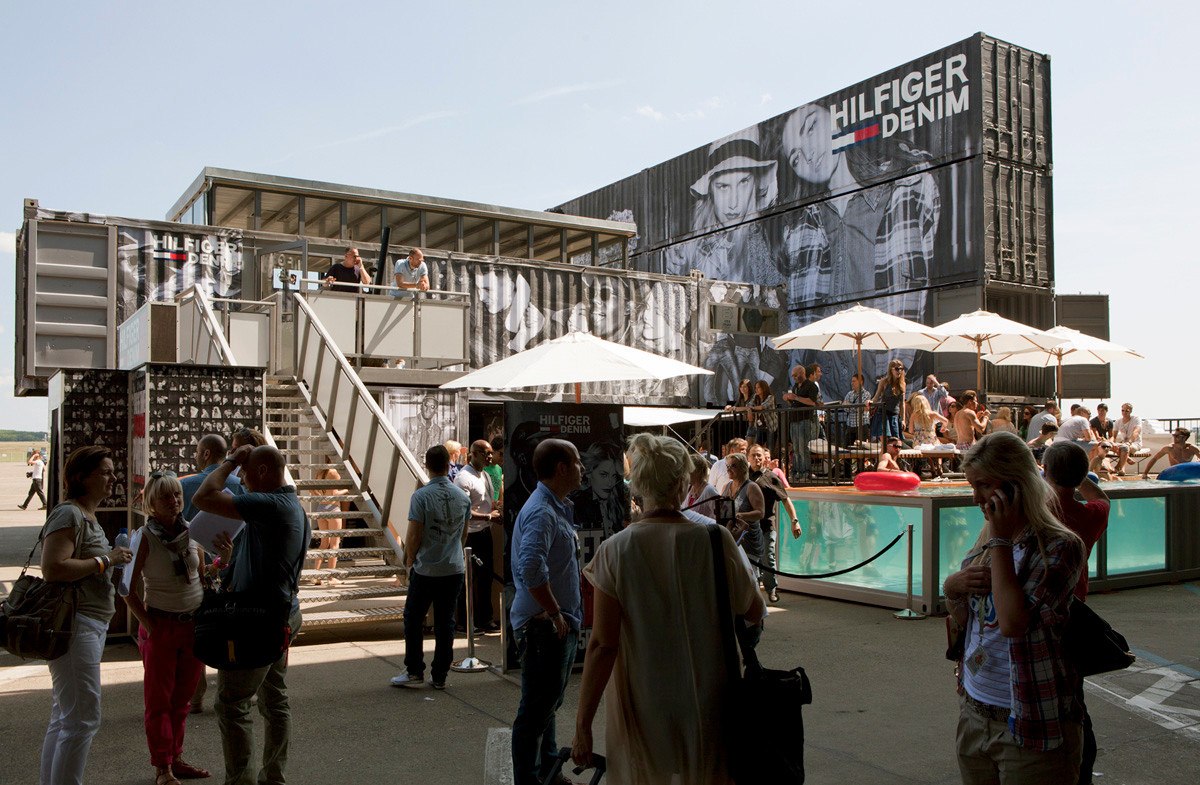 Nagel Containerpool 
The Containerpool was cleverly designed as a portable pool for events and is almost entirely self sufficient. It includes a filtration system, locker room, electrical connections, and it even monitors and controls pH and chlorine levels. The container has been lined with a 1.5mm reinforced swimming pool liner and features three portholes along each side of the pool. For safety, anti-slip floor mats are used and railings surround the platform.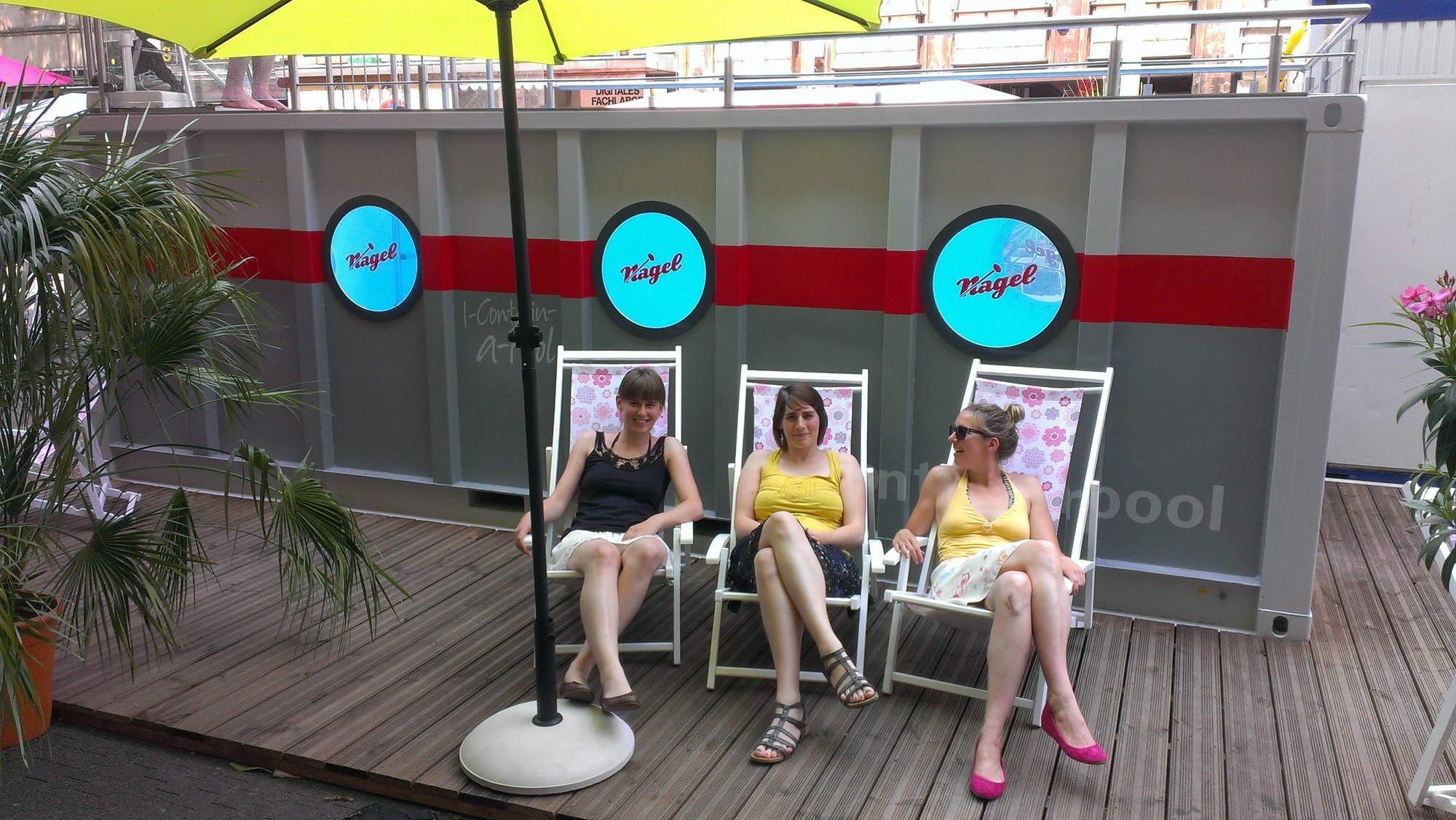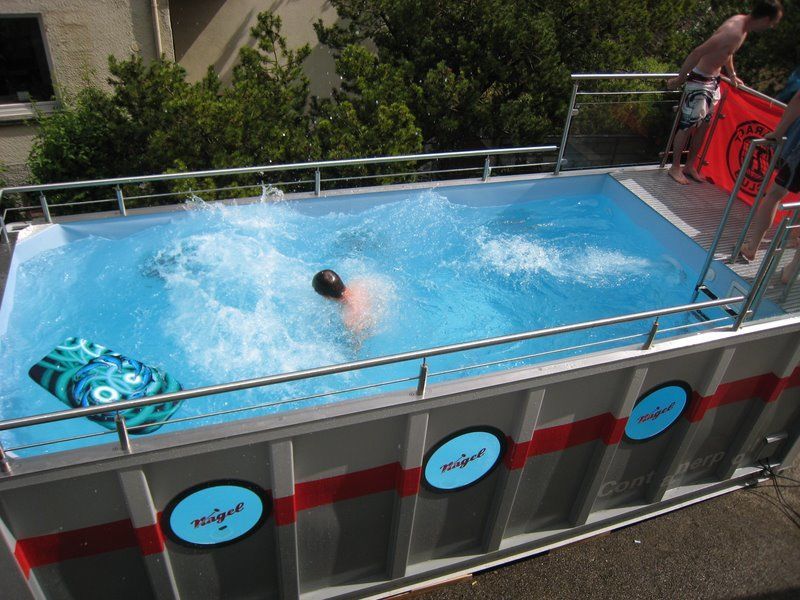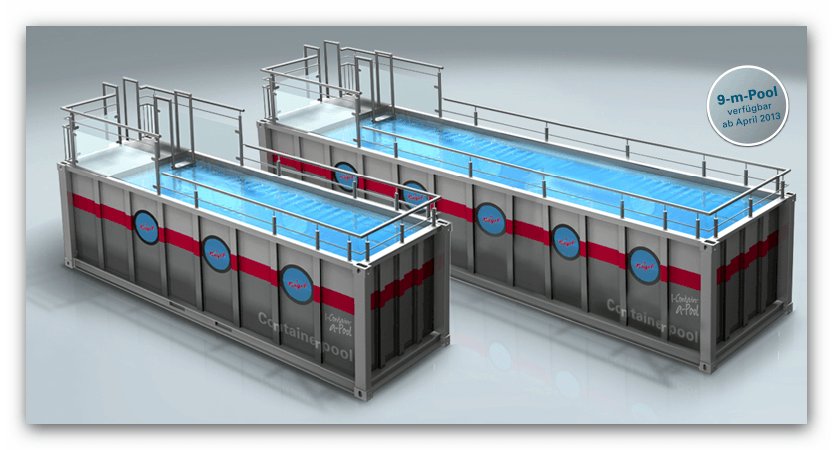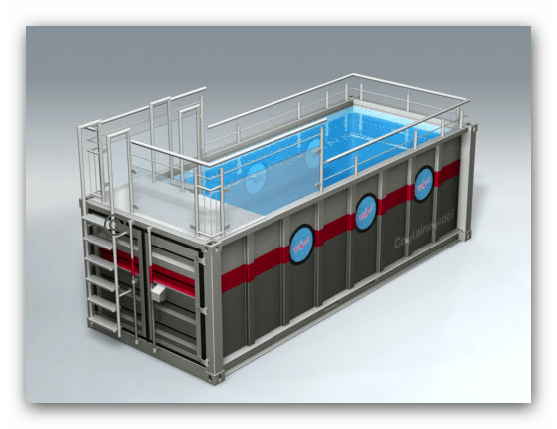 Container City Pool
A shipping container pool in Container City, London, invites locals to take a dip. Unlike the Tommy Hilfiger Denim pool and Nagel Containerpool, this pool has been designed to appear as though it's in-ground.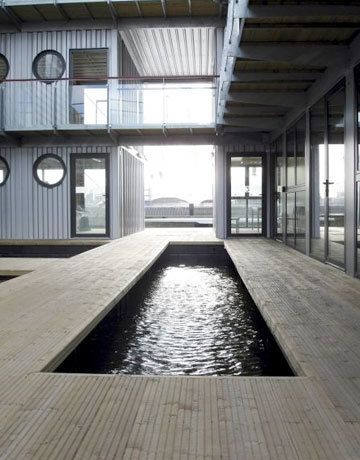 Dumpster Pools
Keeping in the spirit of up-cycling, US company Macro-Sea caused quite a stir in Brooklyn when they used dumpsters as swimming pools at a party. The company's president, David Belt, says that the project was created to experiment with underused space and materials, repurposing them with urban renewal in mind. Not unlike shipping containers, dumpsters are everywhere in the US, and many sit unused. 
The dumpsters were cleaned, the bottoms filled with sand for padding, and then they were lined with plastic and fitted with a filtration system, just like on a regular above-ground pool. The main cost was the wooden decking and the water delivery.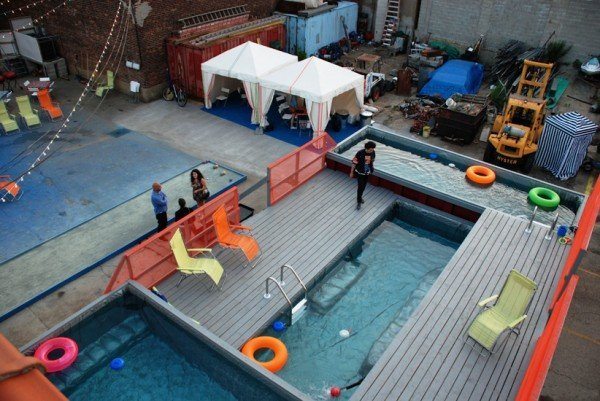 Experimenting further with this idea, Macro-Sea got involved with New York's Summer Streets Program by supplying three dumpster pools for the public to enjoy.
Projects similar to Macro-Sea's could be easily duplicated using refurbished shipping containers instead of dumpsters as shipping containers are also relatively inexpensive and easy to transport.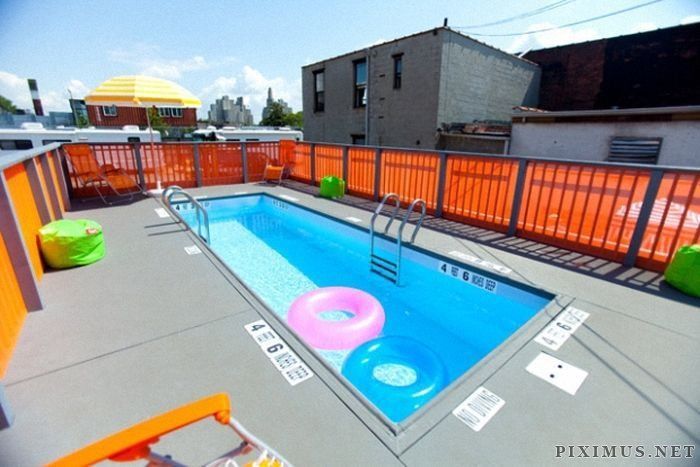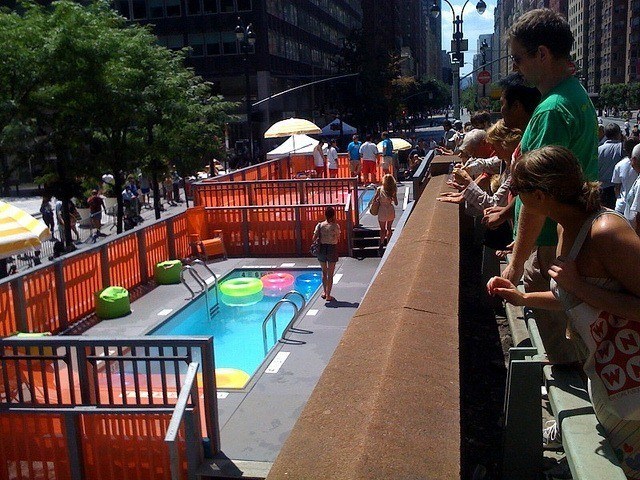 Tough Mudder
A little closer to home, the 2016 Tough Mudder on the Sunshine Coast used shipping containers for its infamous ice water bath obstacle, testing the strength of competitors and containers alike as thousands battled through the freezing water-filled shipping containers.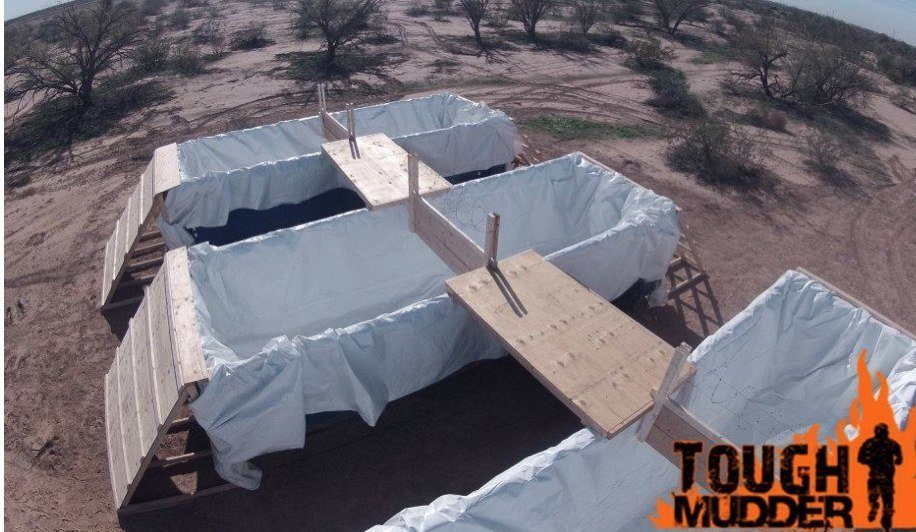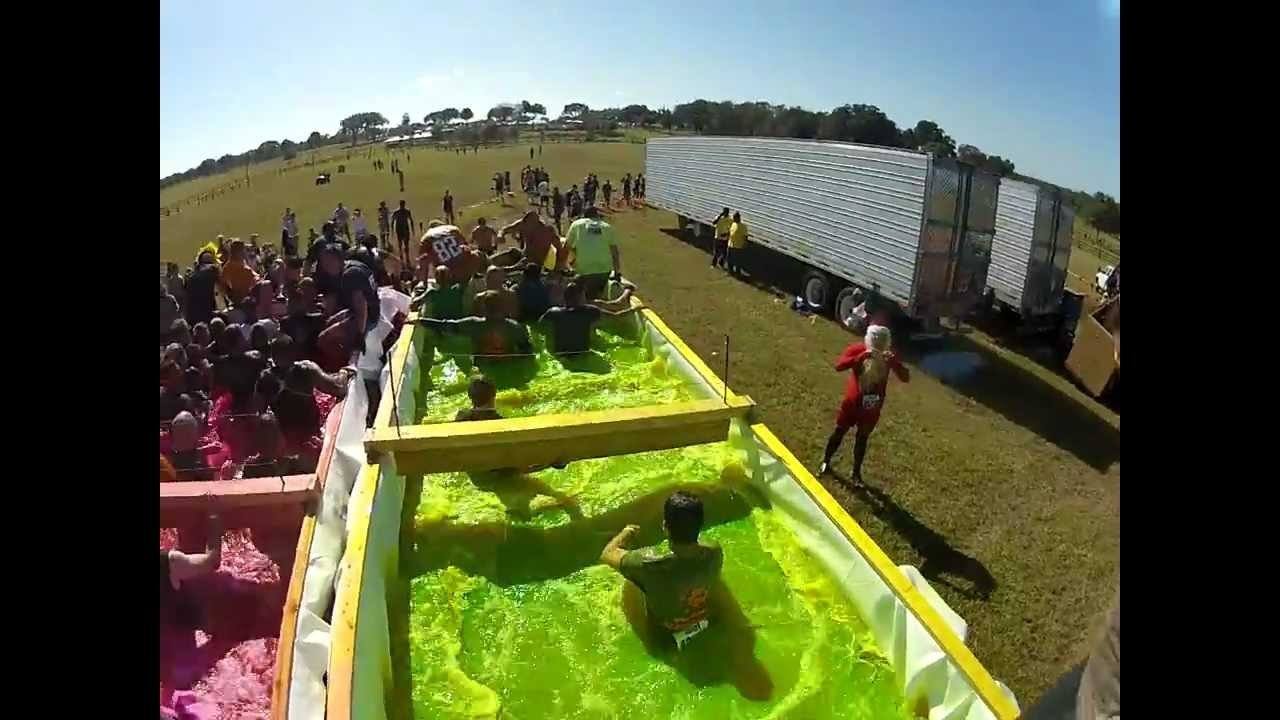 Ready to own your own shipping container pool?
Whether it's for your business or home, get in touch with our friends at Shipping Container Pools today to start your upcycled swimming pool project!
Need a shipping container for another purpose?
At Premier Box Shipping Containers we offer a range of storage and modification solutions for your home and business. Request a quote online now or call 07 3888 3011.
Blog post Images: Google sourced.