In the aftermath of devastating natural disasters around the world, shipping containers have often been modified and retrofitted to quickly replace damaged infrastructure. The RE:Start project in Christchurch, New Zealand, is a perfect example of this. But while the residents of Christchurch were once again able to sip lattes and shop 'til they drop in their stylish new surrounds, populations in Haiti following an earthquake in 2010, and those in New Orleans struck by Hurricane Katrina in 2005, struggled to receive even basic medical attention.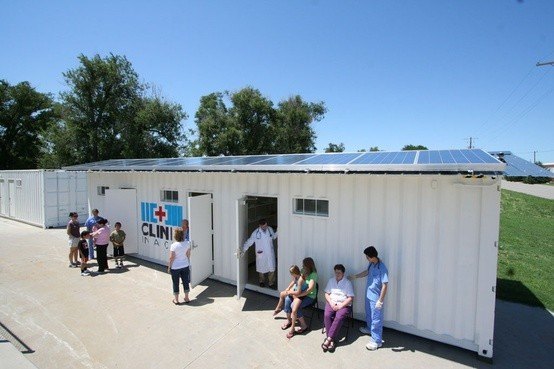 After a magnitude 7.0 earthquake hit Haiti on 12 January 2010, much of Haiti's infrastructure crumbled. Grace Children's Hospital in Port-au-Prince lost 80 percent of their buildings, leaving them to improvise using outdoor tarps and salvaging old cribs so that they may continue to help patients. But it's not just victims of natural disasters who find themselves in urgent need of adequate medical assistance. A Kenyan man tells the story of his sister who returned home to have her first baby, as is customary in Kenya. She began to run a fever and the family decided to take her to the nearest hospital – 10 miles away. Their fastest method of transporting the woman was by wheelbarrow with each family member taking turns pushing. The woman died before they were able to get her assistance.
There are now nonprofit organisations who are addressing this need in areas like Haiti and New Orleans, and in remote communities also, by retrofitting shipping containers and transforming them into portable medical clinics. They believe that people are dying needlessly in remote areas due to lack of health care or following natural disasters, however they are often unable to build permanent structures in areas where people are in need of treatment. The cost and time required to set up permanent structures with the required facilities just isn't viable.
Containers to Clinics design, make, ship, install and operate portable medical clinics made from 20′ (6m) shipping containers. Specifically designed for remote locations, Containers to Clinics (C2C) takes advantage of the durability and portability offered by shipping containers in order to provide timely and quality health care around the world. Their first container clinics are being used in Haiti.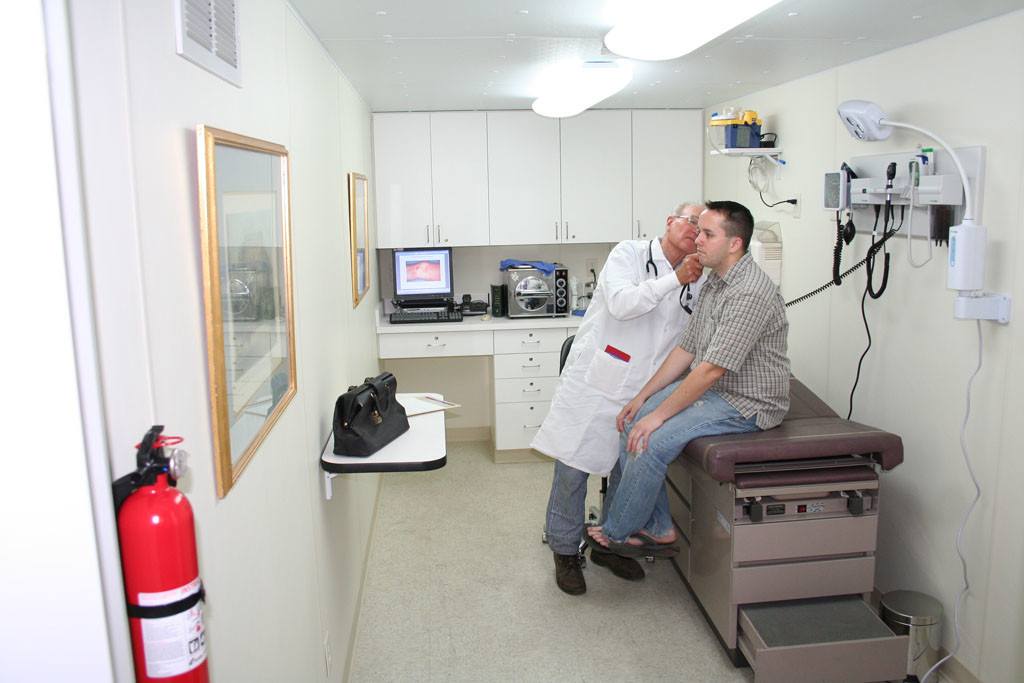 These fully-stocked, fully equipped health care centres use solar panels to generate electricity and were built to handle irregular power flows and pull power from a variety of sources including local grid power, any kind of generator, or any nearby house panel. Solar-powered fans, windows, insulation and a few coats of highly reflective white paint keep the clinic as cool as possible in place of air conditioners, and are shaded under custom-built canopies. The clinics are comprised of two private consultation areas, a laboratory and pharmacy, areas for admin and record keeping, and a shaded waiting and patient education area. The pharmacy and laboratory are equipped with a refrigerator, microscopes and basic diagnostic equipment, and the design allows for easy access for maintenance without interrupting the flow of the clinic.
C2C's innovative design has meant that they were able to assist Grace Children's Hospital in Haiti by providing medical care for nearly 4500 patients in the eight months following the earthquake. Patients received primary and preventative services including vaccinations, pre- and postnatal care, infectious disease testing and treatment, and nutrition counselling.
Clinic in a Can is another nonprofit organisation building and supplying shipping container medical clinics around the world. They have supplied containers to assist with medical care in Jefferson Parish in Louisiana following Hurricane Katrina, and many have gone to Haiti. Two of the clinics sent to Haiti in 2010 treated nearly 5000 patients in their first 5 months of operation, and saw over 1300 patients in one week alone.
Clinic in a Can uses both 20′ (6m) and 40′ (12m) shipping containers for their mobile medical clinics, and these take about 20-30 business days to complete respectively. Several units are always made available for immediate purchase however, enabling the organisation, or sponsors of the organisation, to act quickly when the need arises for immediate medical care. In addition to this, transportability of the containers is increased by using containers that conform to ISO standards so that they may be shipped to wherever they are required. A shipping container is a great building block for a portable clinic because there is already a worldwide system for transportation of each container.
If you would like more information on how shipping containers can be modified to suit your needs and circumstances, or would like to enquire into shipping containers for sale or hire, call Premier Box Shipping Containers on 07 3888 3011, or Get a Quote Online.
[[youtube? &link=`http://youtu.be/OdeENqr4BNs`]]