In September 2010 a 7.1 magnitude earthquake struck the New Zealand city of Christchurch. The earthquake had a devastating effect on the people and economy of New Zealand, and was then followed by an aftershock in February 2011 that destroyed a shopping mall in Christchurch, along with much of Christchurch's infrastructure.
[[youtube? &link=`http://youtu.be/R3NyfO4PRAg`]]
Despite the people of Christchurch being faced with countless challenges and overwhelming tragedy in the aftermath, an innovative initiative was undertaken in an attempt to help the city bounce back, and the Re:START Project was born. A temporary shopping mall was created in a matter of months in the same location as the old mall, and was constructed out of shipping containers. Shipping containers were chosen due to their strength and durability, ease of transportation, and relatively low cost. This simplifies design and planning. They can also be stacked on top of each other, making them the ideal material for this temporary pop-up mall.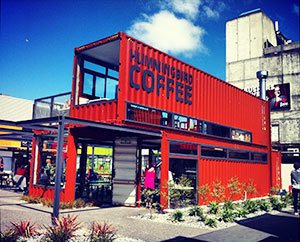 The Re:START shipping container shopping centre currently features 27 exciting retailers including two cafés and a variety of boutiques found only at Re:START Mall. Most of the stores are locally owned and have been part of the community for years, while others are new to the mall. They were given six month leases due to the temporary nature of the shopping village, however Re:START hopes that the retailers will be in a position to remain with the mall once a permanent structure is built. Re:START was enjoyed by thousands of visitors on its opening weekend, providing Christchurch residents with a sense of normalcy after a few tumultuous months.
The Re:START Mall boasts lively colours and offers a sense of contemporary Eco-Style, forming one of the most striking features of the city's renewal. It is expected to remain a part of the community as it currently stands for at least a year until damaged areas of the mall can be restored. Until then it is anticipated that the mall will continue to draw attention for its innovative design and functionality, as well as restore some vibrance into the recovering city of Christchurch, which is exactly what the city needed.
If you would like more information on how shipping containers can be modified to suit your needs and circumstances, or would like to enquire into shipping containers for sale or hire, call Premier Box Shipping Containers on 07 3888 3011, or Get a Quote Online.