Size
Shipping containers measuring 6m (20ft) and 12m (40ft) long are the most cost effective options when considering what size to buy. Containers with these lengths are the most commonly used in the shipping industry and are therefore the most readily available. Smaller sizes such as 10ft containers are usually cut down from larger containers and are more expensive due to the labour involved.
Construction
Whether hiring or buying a shipping container, it should be constructed from corrosion resistant Corten steel. Corten steel is designed for outdoor use and is incredibly strong. Due to its chemical compositions, this steel exhibits increased resistance to atmospheric corrosion compared to other steels. This is because the steel forms a protective layer on its surface under the influence of the weather.
Check for Damage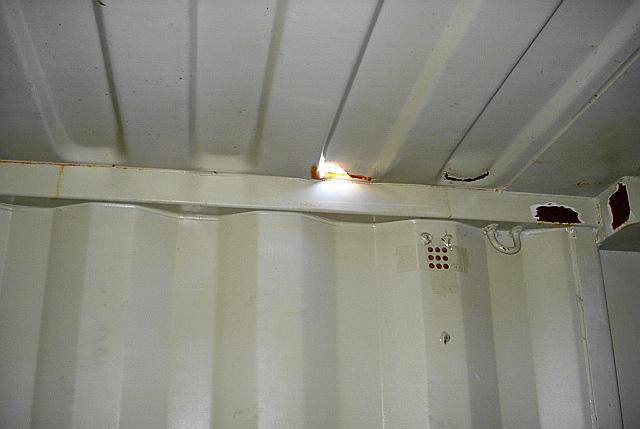 When you take delivery of your shipping container you should always check for damage. Examine the walls, roof and floor from the inside. In the daylight, sunlight will filter through any holes there might be. There shouldn't be any soft spots in the flooring so make sure you check the floor as well before the container is loaded.
Level Ground
Make sure that your shipping container is positioned on level ground, ideally on a concrete surface. If you do not have a concrete surface, wooden sleepers or concrete blocks can be used. If the shipping container is not kept on a level surface, you may encounter issues when trying to open and close the doors, particularly when the container is loaded.
Security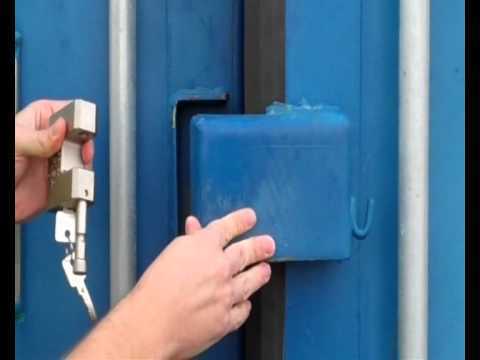 The most vulnerable area of a shipping container is the door. To reduce the risk of unauthorised access it is recommended that you purchase or hire a shipping container with a lockbox, or have one fitted before delivery if the container isn't provided with one. A lockbox is a metal box that is welded onto the container doors to protect the padlock from being tampered with illegally. Using a high security padlock will also give you some added peace of mind.
Delivery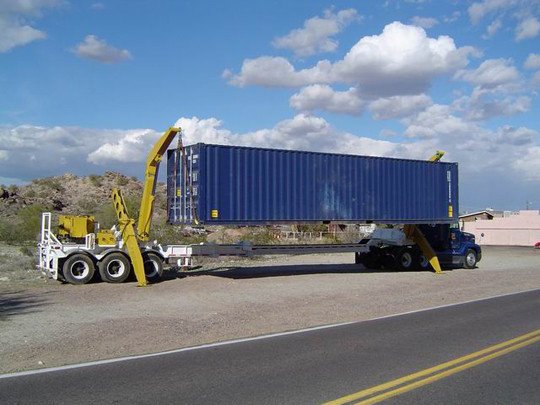 Ensure you consider what sort of access there is to the site when arranging delivery of your shipping container. It would be advisable to notify the company you are hiring or purchasing from of any obstructions such as overhanging trees or power lines so that they may plan their delivery in the safest manner possible. You should also have the site prepared for the shipping container's delivery prior to its arrival. Plan where you will need it placed for easy loading and unloading, and make sure there is ample room for the truck. There are generally several types of trucks available for shipping container delivery, so you should discuss which truck is best for the job with the company supplying your shipping container.
Insurance
Always speak to your shipping container provider about your insurance obligations when hiring or leasing a shipping container. More often than not you will need to arrange insurance against all risks and you will be responsible for any stock or goods stored or shipped in the container. Do your homework and be aware of your responsibilities under your agreement.
Deal with a Shipping Container Professional
Last but not least, make sure you deal with a shipping container professional when buying or renting a shipping container. Some shipping container suppliers will offer a superior service to others and will go the extra mile to ensure you are being provided with a quality product.
Premier Box Shipping Containers is an example of one such company. Their new shipping containers are produced to the highest standards, using the latest design and production techniques available. All new shipping containers are independently inspected during and after production to guarantee maximum build quality. Used shipping containers are inspected and surveyed on arrival to Australian depots. All of Premier Box's containers are constructed from Corten steel and fitted with a lockbox to ensure your goods remain secure and in top condition.
To speak to a shipping container professional about purchasing or hiring a shipping container, call Premier Box Shipping Containers on 07 3888 3011, or request a quote online.