Shipping containers are hot property right now, and for good reason. Their versatility, strength, portability and affordability means they're the number one choice when extra storage or workspace is needed. Couple shipping containers with container domes built to withstand the harsh Australian climate, and you have a complete worksite solution.
The Shipping Container Advantage
Shipping containers are easily modified to function as offices, site sheds, amenities blocks, workshops, accommodation and storage rooms. While customisation is key for many businesses, for others the main benefit of using shipping containers is their ease of relocation. Building permanent structures on site is often not feasible or cost effective, so a modified shipping container fits the bill perfectly.
The Perfect Match
Take two shipping containers and a container dome and what do you have? Well, whatever you want really. This combination is the starting point for your complete and versatile worksite solution. We can modify the shipping containers to meet your specific needs, and the addition of a dome shelter creates valuable sheltered work or storage space. Best of all, the final installation will be strong, weather resistant, secure and cost effective!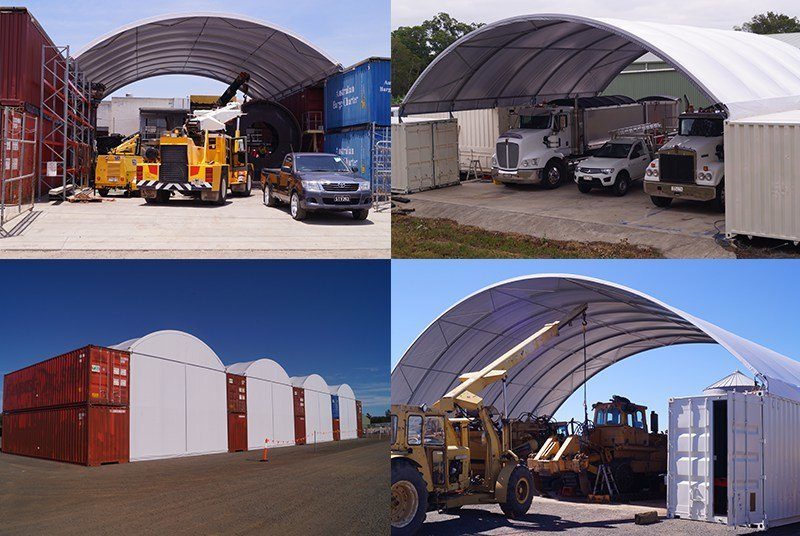 Work Space Solutions
We understand that businesses have wide-ranging requirements, which is why the capabilities of our on-site workspaces are just as varied. Our products can easily adapt to any situation and can be used in numerous ways. Consider the following applications for the shipping container and dome shelter combination:
– Protect valuable plant, machinery and equipment from the weather
– Provide extra work space for employees, both inside and outside
– Safely store your stock and protect it from the elements
– Work on plant and machinery out of the weather
– Secure and waterproof storage for vital equipment
– Relocatable workshops for mine site maintenance
– Freight storage
– Shelter livestock and feed from heat and frost
– Hangar for aeroplane or helicopter
Remote Workstations
We can custom build remote work stations to suit any requirements. With full solar and backup generator options, we can meet any power requirements.
Basic work station:
– 2 x containers
– 1 x shelter (fabric roof Dome Shelter or Colorbond roof ContainerShed
Fully equipped work stations can be built with any or all of the following features:
– Modified shipping containers (fully insulated and air conditioned, shelving, goods storage etc)
– Solar power (different mounting options, custom built, controlled onsite or by remote access)
– LED high bay lights
– CCTV cameras with remote access
– Security lighting
– End walls on shelter (partial or fully enclosed, also available with doorways)
– Ceiling fans
– Concrete slab
– Gutters
– Branding on shipping containers and dome shelter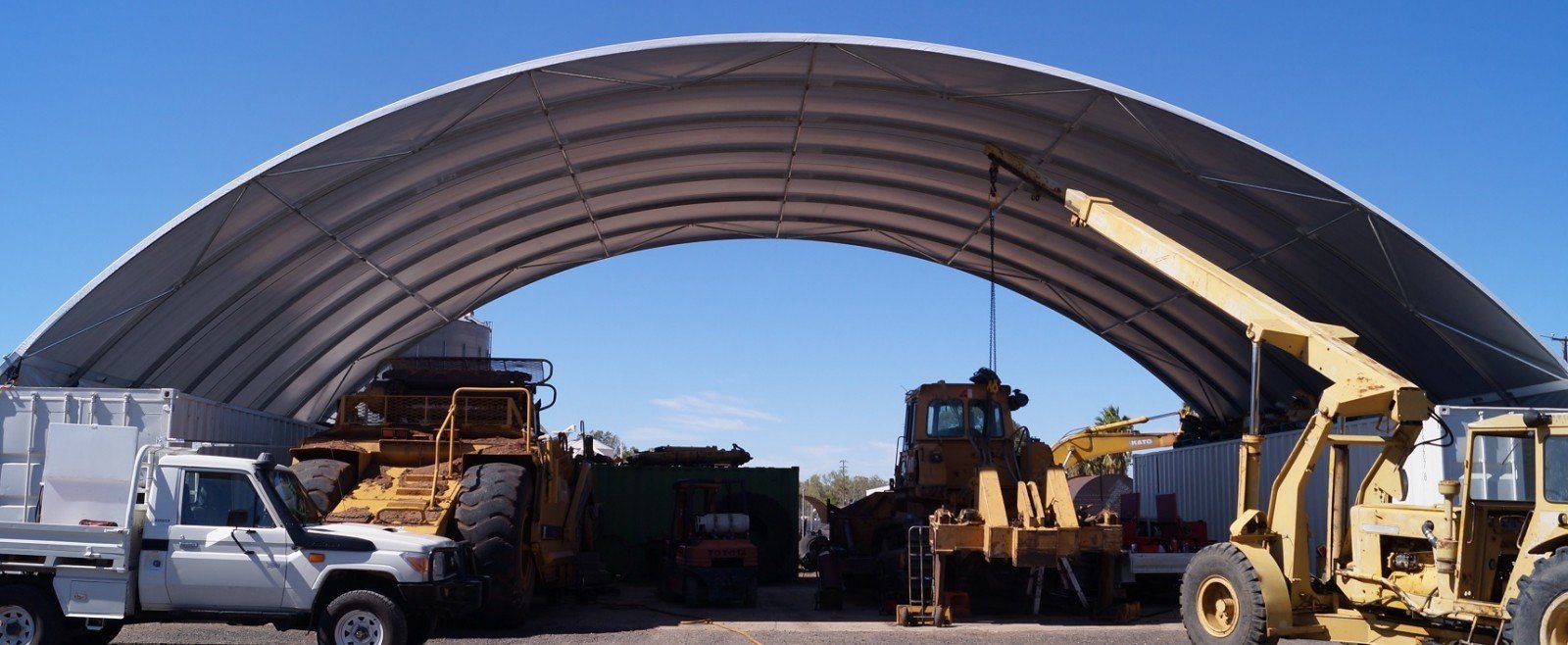 Container Dome Features
Premier Box is proud to partner with Container Domes Australia www.containerdomes.com.au to offer our customers a high quality Australian made product.
Container Dome features include:
– Galvanised steel frame and bracing
– Australian made Canvacon 7000E PE fabric cover (white/silver a standard for temperature control)
– Full or partial end wall available for one or both ends
– Base rail mount system for full waterproofing
– Certified to leave cover on in winds up to 300km per hour
– Easy to read assembly instructions for DIY installation
Specifications
Shipping Container Dimensions
Standard shipping container sizes are:
– 6m (20ft) Standard: 6m long x 2.4m wide x 2.6m high
– 6m (20ft) High Cube: 6m long x 2.4m wide x 2.9m high
– 12m (40ft) Standard: 12.2m long x 2.4m wide x 2.6m high
– 12m (40ft) High Cube: 12.2m long x 2.4m wide x 2.9m high
Dome Shelters
Standard dome shelter widths range from 6m to 21m, and are designed to fit 6m or 12m shipping containers.
Standard dome shelter sizes are:
| | | |
| --- | --- | --- |
| – 6m x 6m | – 9m x 6m | – 12m x 6m |
| – 6m x 12m | – 9m x 12m | – 10m x 12m |
| – 12m x 12m | – 13m x 12m | – 15m x 12m |
| – 18m x 12m | – 21m x 12m | |
Customisation
We realise that some of our clients' needs are complex, so we offer shipping container modification services onsite at our Narangba depot. Dome shelters can also be designed to meet your specific requirements. Why not build a site shelter that's perfect for your business?
Call Premier Box today to discuss your work site needs – 07 3888 3011.