What does it take to supply a 78 bed hospital ship with six state-of-the-art operating rooms producing over 7000 surgical procedures each year in West Africa?
The procurement department at the Mercy Ships International Operations Center in Garden Valley, Texas, is charged with the daunting task of shipping medications, lab supplies, hospital equipment, and medical supplies (among other things) to their hospital ship in West Africa. These items are either donated by generous providers or purchased.
"We send one 25,000-pound shipping container every month to the Africa Mercy, packed with medical, food, and technical supplies needed to keep our ship and its programs operational," says Russ Holmes, Director of International Procurement at Mercy Ships. "About half of the container is solely medical supplies."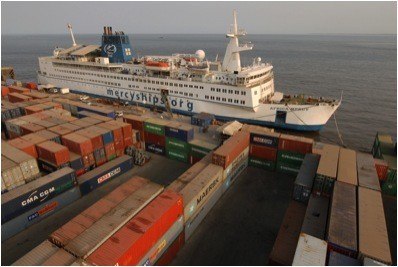 Transporting the container can take up to eight weeks. Once the container is cleared through customs in the host country, the medical supplies are unloaded and available for surgeons and nurses to use to treat patients.
Another use that Mercy Ships has found for shipping containers is security. To protect the Africa Mercy while docked in a West African port for up to ten months at a time, a triple-tier wall made up of shipping containers is erected prior to the ship's arrival to separate the ship from the rest of the port.
Mercy Ships operates in some of the busiest ports in the region, where ships and sailors come and go 24/7. And with the Africa Mercy's precious cargo of medical equipment and 450 volunteer crew members, security and safety are top priorities.
The strength and durability of shipping containers, along with their ease of stacking, allows container walls to be constructed for different uses, in any location and to any size. Walls of containers have been filled with sand and used as giant sandbags in the UK, stacked to form retaining walls in Western Australian iron ore mines, and propped up against buildings damaged in the Christchurch earthquake to provide much needed support while repairs were undertaken.at night and steal anything," says the Africa Mercy's Advance Team Leader, Tracy Swope, a retired US Marine. The containers are packed tight so no unwanted guests can sneak through. Contact Gary Regazzoli at Mercy Ships Australia for further information on this valuable African charity organization.
To build your shipping container wall, consult a person familiar with their specifications. One tried, tested and cost-effective source of shipping containers is Premier Box Shipping Containers, with depots across Australia. Get a Quote Online or call us at 07 3888 3011.