Shipping containers have become the go-to storage solution for many businesses due to their strength, durability, security and weather resistance. They are also cost effective and easily transported, meaning they tick all the boxes for an effective and efficient storage solution.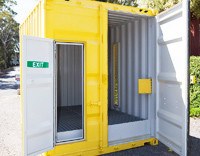 Dangerous Goods shipping containers share the same benefits as standard containers, however they utilise an extra level of technology and expertise to ensure the safe storage of potentially hazardous goods. These specially designed containers protect the materials being stored, but they also protect workers and the public alike, making them essential for companies needing to store dangerous and hazardous goods. Manage the risk of severe penalties for not safely storing dangerous goods, liquids and chemicals.
The Australian Hazardous Goods Regulations require that dangerous goods supplied in Australia should be classified, labeled, packaged, stored and transported according to particular Australian standards. Premier Box offers peace of mind when purchasing Dangerous Goods containers as our containers are of the highest quality, and our experience within the industry has lead to an in-depth knowledge of, and adherence to, the regulations required in the handling, transport and storage of dangerous and hazardous goods.
Premier Box Dangerous Goods containers have been built and designed with the community's and your safety in mind and are in compliance with Australian Standards (AS1940-2004).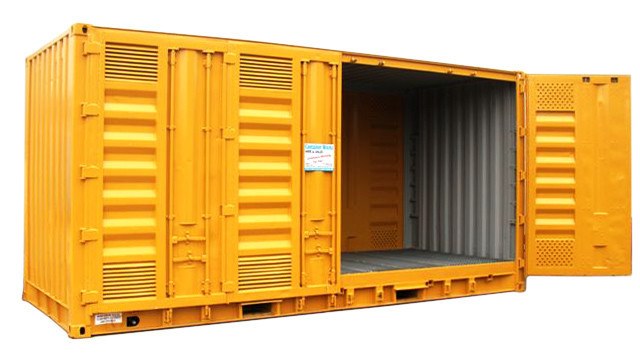 Under these standards, our containers are perfect for the storage of:
– Paint and thinners
– Oils and diesel
– Chemicals
– Liquids
– Class 3 flammables
Our Dangerous Goods containers are available in 3m (10ft), 6m (20ft) and 12m (40ft) sizes and are equipped with an internal door release, ventilation, bunded floor and a lockable stainless steel valve in the bund wall, ensuring safety is the number one priority.
Dangerous Goods Container Features:
Australian made.

Fully painted premium grade container.

Fully welded steel flooring.

An RHS floor frame.

Front steel bund wall.

All appropriate plates & signage.

Non-spark industrial mesh floor covering (except in Class 2 Dangerous Goods Units).

Internal door safety handle.

Lockable valve tap.

Weatherproof vents.

Double opening doors.

Storage capacity of approx 4,300 litres – (6m unit with 300mm bund).

Storage capacity of approx 8,400 litres – (12m unit with 300mm bund).

Bunded Floor with drainage attach points

Aluminium Checker-plate floor

Grilled Ventilation

Tyne pockets for quick on site load and unload with a Forklift

Safety Yellow for easy Identification

Corten Steel Carcass, built to withstand extreme force

Double Locking System to prevent Theft/Tampering

Internal emergency door release

Clear Safety Labelling
At Premier Box, we pride ourselves on being the Shipping Container Professionals, which is why you should speak to us first about purchasing a Dangerous Goods shipping container. The quality of our containers and our in-depth industry knowledge means your company will have the safety advantage when working with us.
Call us today on 07 3888 3011.